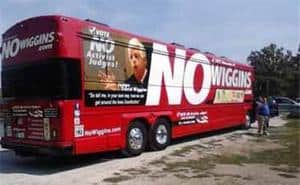 Iowa Supreme Court Justice David Wiggins was the center of attention today as two competing bus tours kicked off to attack and defend the Iowa Supreme Court Justice whose career is on the line this November.
On one side there stood the likes of failed presidential candidate and former Sen. Rick Santorum, perennial gubernatorial candidate Bob Vander Plaats and others who are trying to oust Wiggins for participating in a unanimous 2009 decision allowing marriage equality in the Hawkeye State. Three other justices were voted out in 2010.
"Justice Wiggins used the Constitution and twisted it to undermine the other thing that our founders understood to be necessary – virtue," said Santorum, according to the Des Moines Register.
He also told his bus' crowd that Wiggins and his peers' unanimous vote amounted to "tyranny of the oligarchy, the tyranny of people who believe they should determine what's best for us."
On the other side, driving their own bus directly in the wake of Santorum et al's campaign, there stood Democrats and other allies who are fighting to keep Wiggins on the bench. But their campaign is more about keeping politics out of the judicial branch than a debate about morals, as the right would have it.
"We don't want to return to the days where politics have been injected into our system, and remove the fair and impartial courts that we have, [that are] well-respected throughout this country," said Des Moines-based attorney Guy Cook.
Both sides of this divide will be touring all week and hits a total of 17 cities, so watch out Iowa!