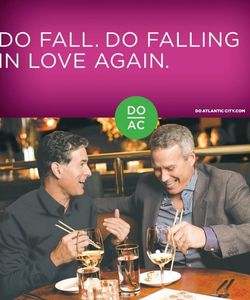 The Atlantic City Alliance today launched the next phase of its "DO AC" ad campaign, including a version that encouraging same-sex couples to visit the casino town and fall in love again.
Press of Atlantic City reports:
Following up on its $20 million "Do AC" advertising blitz over the
spring and summer, the Atlantic City Alliance is spending $6 million to
promote the town this fall as a place to "Do Change."

…

Another print ad features two men sharing a
meal under the headline, "Do fall. Do falling in love again." It will
run in a gay publication in hopes of drawing more gay travelers to
Atlantic City.

Jeff Guaracino, a spokesman for the Atlantic City
Alliance, noted that the gay travel market is worth an estimated $64
billion annually. The alliance's gay-themed ad is an extension of the
marketing efforts that some casinos already do to attract gay and
lesbian travelers, he said.
If you click on the image you'll note that the couple here is married, which gives the "falling in love" action its added oomph.