Barrett Greene and Thomas Eng are suing Amber Village sushi restaurant in NYC's Greenwich Village after they say the owner canceled their wedding catering and rehearsal dinner after finding out the couple is gay.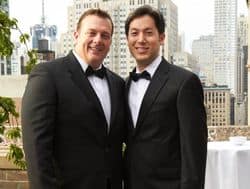 DNA Info reports:
The troubles began shortly after the couple put down a $750 deposit in March to book a party room for their June 8 rehearsal dinner. Tommy Ho, a manager at the restaurant, agreed to have Amber Village cater the wedding the next day as well, according to court documents.
But on March 30, the restaurant's general manager, identified in the documents only as Mr. Fong, allegedly confronted Ho in a rage and said he "didn't want any 'gay parties' at Amber Village."
"Fong also told Ho that it's 'very bad' for Amber Village to book 'gay parties,' and that big groups of 'gay parties' are especially bad for feng shui," or the Asian practice of improving a building's chi, or energy, the lawsuit says.
After the exchange, Fong allegedly paid Ho his back wages and fired him, saying "you can go now," according to the lawsuit. Soon afterward, Ho texted Greene that he had been fired and that the pair could no longer have their rehearsal dinner at Amber Village, or have their wedding catered by them — leaving them scrambling to find a last-minute caterer for their 200 guests.
The suit seeks unspecified punitive damages, claiming that the restaurant discriminated against the pair based on their sexual orientation.
One employee told the paper that the reason for the cancelation seemed out of character for the restaurant:
"Feng shui has to do with luck and fortune. It has to do with where do you put your plants and flowers, your furniture. It has nothing to do with who are your clients," Bo Lee said. He denied the company would discriminate against gays.
"This is the West Village. We don't turn away anyone," Lee said. "We have gay managers."