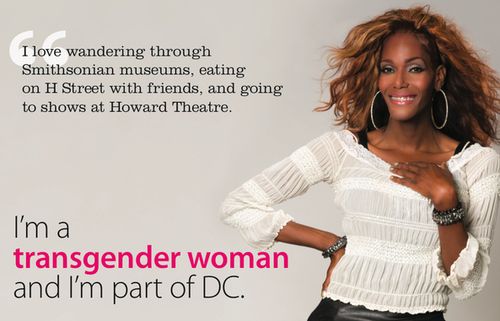 Following a recent spike in anti-trans hate crimes, the District of Columbia recently launched a new campaign aimed at combating anti-transgender discrimination.
In their first ad, unveiled today at BuzzFeed, the city introduces us to Kisha, who tells us, "I love wandering through Smithsonian museums, eating on H Street with friends, and going to shows at Howard Theatre."
She goes on: "I'm a transgender woman and I'm part of DC. Please treat me the way any woman would want to be treated: with courtesy and respect."
Kisha says her first experience with true discrimination came when she left the house, "Growing up in a household with a single mother and nine siblings, my mother always taught us about equality. When I started living as a transgender woman outside of the home, [that] was the first time I saw the discrimination [against LGBT people]." She also told the site that she believes the campaign will finally put relatable faces on transgender people. 
"People will see transgender people," she said." They're going through everyday life, everyday struggles — the same as straight people, rich people, everyone. Getting the message out there … is going to be great." Let's hope so.