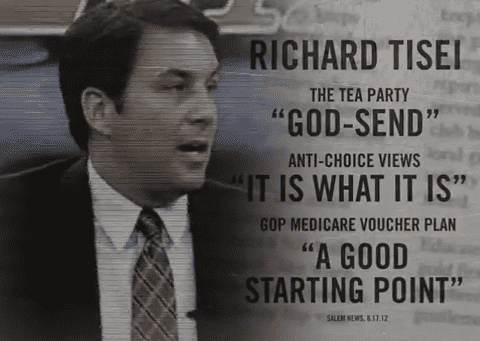 Republican Richard Tisei desperately needs to win over some Democrats if he wants to represent Massachusetts' 6th District in the U.S. House next year. And winning over those Democrats will require proving to voters that he's not like the national Republicans who lean ever-more to the right.
That ideological break was made even more clear today when Tisei, who is openly gay, asked his state's GOP to reject the national party's homophobic platform.
The platform "espouses beliefs that exclude many in our party, includ­ing myself," Tisei wrote to state Republican chairman Robert A. Maginn Jr. "As a 'live-and-let-live' ­Republican, my philosophy is that the government should get off our backs, out of our wallets, and away from the bedroom."
MassGOP told The Boston Globe that they're all about "big ideas, and there is no shortage of opinions within the party," but "ultimately, we all share one goal, which is electing more Republicans in ­November."
Meanwhile, Barney Frank, the retiring U.S. Representative from Massachusetts, weighed in on Tisei and said that no matter how LGBT-friendly he may be, his election would maintain GOP control in the House and therefore hurt LGBT people, which is why voters should support Democratic incumbent John Tierney, the straight man in the middle.
"John Tierney's election as opposed to Rich Tisei's is better for the advancement of the legal equality we are seeking because if Republicans gain contain control of the House, no bills advancing our rights will come up," said Frank.
Tisei got the last word, though, telling The Daily Item, "I think I will be able to carve out an identity for myself that's separate from the party and that most people support me on." Unfortunately such identities are often assimilated or undermined upon arrival in Washington.
On a related note, Tierney yesterday released his first political ad in which he aligns Tisei with the Tea Party. Check it out AFTER THE JUMP.