A U.S. Appeals court will hear arguments in Edie Windsor's case against the Defense of Marriage Act today, the AP reports: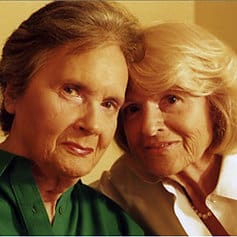 A three-judge panel of the 2nd U.S. Circuit Court of Appeals will hear lawyers argue whether the law should be abandoned or preserved; a ruling is not expected for months. Already, the law has been struck down by a federal appeals court in Boston and five trial-level judges, including U.S. District Judge Barbara Jones in Manhattan.
She ruled that the law intrudes upon the states' regulation of domestic relations. Her June decision came after Edith Windsor sued the government in November 2010 because she was told to pay $363,053 in federal estate tax after her partner of 44 years, Thea Spyer, died in 2009. They had married in Canada in 2007.
The Justice Department is siding with lawyers for Windsor after President Barack Obama and Attorney General Eric Holder in February 2011 told the Department of Justice to defend the law no longer.
Instead, a group appointed by the Republican majority in the U.S. House of Representatives is defending the law in courts across the country.
The group appealed the district court's decision in the Windsor case to the 2nd Circuit, which expedited the appeal due to Windsor's poor health. She suffers from a serious heart condition that could end her life before the case is resolved. Windsor has asked the Supreme Court to review her case before the 2nd Circuit reaches a decision.
Windsor has said that the lawsuit and its impact on others in her position have given her "energy to live," recounted her lawyer, Roberta Kaplan of Paul, Weiss, Rifkind, Wharton & Garrison.
Watch an engaging profile of Windsor from In the Life Media, AFTER THE JUMP…