A federal marriage equality bill was defeated 98-42 in Australia's House of Representatives yesterday with Prime Minister Julia Gillard, Treasurer Wayne Swan and former Prime Minister Kevin Rudd all voting to kill it, The Age reports: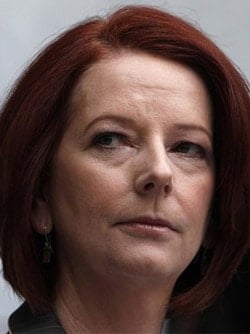 Channelling another former Labor Prime Minister, Gough Whitlam, Mr Jones urged campaigners to "maintain your rage," while the Australian Christian Lobby head Jim Wallace said it was time for the parliament to "move on."
Gay rights activists said they would now look to state and territory parliaments to make the change.
"Now the federal parliament has effectively brushed the wishes of a majority of Australians aside, the states and territories will take the lead, making me confident we will see same sex marriages performed somewhere in Australia by the end of the year," Australian Marriage Equality convener Alex Greenwich said.
Tasmania's lower house last month passed a bill to legalise gay marriage. It must still pass the state's 15-seat Legislative Council to become law. Efforts to legalise same sex marriage are also underway in South Australia, the ACT and New South Wales, where Premier Barry O'Farrell will allow his MPs a free vote.
The Senate is expected to defeat a bill this week as well.
ABC News adds:
Finance Minister Penny Wong, who is gay, acknowledged in recent days that the legislation was unlikely to pass, but still argued passionately for its approval during the debate.
"If you subscribe to the principal of equality, as I'm sure most in the chamber would, then substitute 'same sex' for 'race' in this debate and see if it changes your view," Wong, who has a Chinese-Malaysian father and Australian mother of European descent, told lawmakers. "Just imagine if we told Australians today that they could not marry the person they love because of the color of their skin."