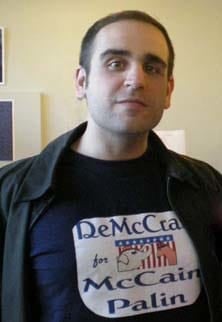 Chicago's Kevin DuJan, the gay, right-wing blogger who believes liberals have ruined his love life, did the following bit of serious journalism:
He set out to research a story last Friday on the teachers' strike, but failed to find any striking teachers.
Lacking anything better to do, he elected to check up on a rumor that Chris Stevens, the murdered Libyan ambassador, was a gay man.
He received a tip from he-doesn't-say-who to go to a bar called Second Story, where he met a man who calls himself Dino and works at Chicago's Serbian consulate.
He was told by Dino that, yes, Chris Stevens was gay, and was killed for it.
He drew the following conclusion:
You won't hear any of this in the media, no doubt, but in Chicago's
diplomatic circles at least there is no doubt that Chris Stevens was gay
and that pretty much anyone in the diplomatic world knew that. That
includes the Libyans who were hired as security at the consulate in
Benghazi who betrayed Ambassador Stevens and assisted in his murder.

Meanwhile, the White House is ignoring the fact that a gay ambassador
to a Muslim country was murdered and they are in fact still pretending
that all of this is about some obscure movie about Muhammad …
DuJan did find some substantiating evidence for the gay-Stevens claim, and it's this: Back in college, Amb. Stevens was friends with the playwright Austin Tichenor, alleged gay and co-creator of the famous Reduced Shakespeare Company, and over the last several days Tichenor has been posting old photographs of him and Stevens hanging out.
DuJan's story has now gone viral among the fringier blogs. Here it is at Free Republic. And in another spot at Free Republic. Here it is at RomanCatholicImperialist, and BeforeItsNews, and the SaveAmericaFoundation. I've got no idea if the story's true. It could be. Many people are gay.
But even if it is true, it's tacky, and not just because it seems those pushing the story are doing so in the hope of making some ghastly political point. It's tacky, too, because they've decided to believe a rumor about Stevens's treatment by his killers — that he was raped both before and after he died — and to describe that treatment in great detail, trying to seem horrified by what they're writing while very unsubtly luxuriating in it.
Still, this hurricane of ugly blogs has had at least one pleasant consequence. It has made commentators at Free Republic speak up for gays:
This is an idiotic thread. The guy lived for half his life in North
Africa or the mid-east and he died serving his nation. Who gives a sh**
about what someone thinks about what he does or does not do in private?
It is totally irrelevant.