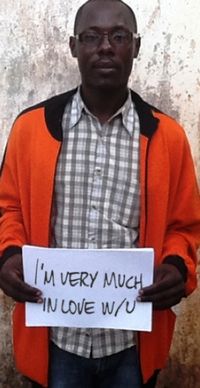 "I'm very much in love w/u." So read the text message that Cameroonian Roger Jean-Claude Mbede sent to another man last year, and which landed him in Kondengui Central Prison, where he remains still. In Cameroon, homosexual acts are punishable with up to five years in prison. For his text message, Mbede has been sentenced to three.
Representatives from Alternatives Cameroon visited Mbede in Kondengui, where they found him in "deplorable" moral and physical health:
Suffering at the time with his left eye and without
treatment or medications. He told us he slept on the ground since his
imprisonment, and abandoned by most of his family members who regard
him as a wizard.
Mbede has an appeals hearing tomorrow, and could be released. Or he could be returned to prison for another two years. There is currently a petition on AllOut.org calling for his emancipation, which has so far been signed by more than 80,000 people. You can sign it here. (Quickly, though. Cameroon is eight hours ahead of the American eastern coast.)