Alberto Leguina, a Columbia University PhD medical student and former associate from Chile has filed suit against the school, claiming that his supervisor harassed him over the gay hook-up app Grindr, and after he complained about it, the human resources department shunned and then fired him, the Columbia Spectator reports: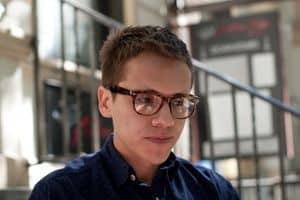 On March 9, Leguina received a message on Grindr, a smartphone application for gay and bisexual men looking to meet others, asking him if he "would date an older man," according to the lawsuit filed in U.S. District Court for the Southern District of New York on July 27.
Leguina, uninterested, said he ignored the message, and when it was followed by a picture of [his supervisor, Qais Al-Awqati, a professor of medicine, nephrology and hypertension], he figured it was a prank.
However, the response convinced him the message really was from the professor. "I have many guys as beautiful and as young as you," Al-Awqati responded on Grindr, according to the lawsuit. "So it is not a joke. You need to have better manners when in New York. Maybe in Argentina or Chile, you are a spoiled Mamma's boy."
Leguina said he was confused—was this really one of the leading experts in hypertension? "Qais Al-Awqati was the one who I wanted to work with. He's a reference for me," he said. "It was my dream. I was doing what I wanted, I was working on what I wanted, with whom I really wanted to work."
Leguina rejected Al-Awqati's advances, and was then threatened by the professor. After seeking help from another supervisor and a human resources representative who promised to assist him, the case took a turn:
Leguina met with Marte-Miraz in HR on March 15. "She promised me that nothing was going to happen, that they were going to make an investigation," Leguina said. "She said, 'Don't worry, I promise you your work is not going to be affected.'"
Only a few days later, Marte-Miraz allegedly told Leguina to "deal with this matter as a big man" and that he "must pretend nothing happened." She threatened to send Leguina back to Chile if he hired a lawyer and told him he could not contact any authorities in Chile regarding the situation, according to Leguina.
There's much more to the case at the paper's website….