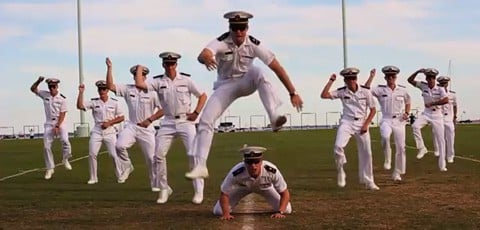 A group of midshipmen from the U.S. Naval Academy 22nd Company are going viral in a new video to Korean rapper Psy's hit "Gangnam Style".
The Baltimore Sun writes:
The mids call it a "spirit spot." It's indeed spirited.
The guys are shaking it down all over the Academy grounds and in various campus buildings. They're dancing at the water in Annapolis. They're dancing in a bathroom stall. They're dancing at a urinal line.
And this dancing? It's fairly, um, exuberant. Quite a bit of hip thrusting.
Watch, AFTER THE JUMP…