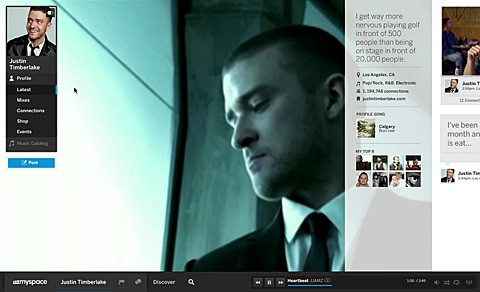 Justin Timberlake announced a preview for the revamp of MySpace via Twitter yesterday. He's one of the investors in the new service, described by one of its owners as "a social network for the creative community to connect to their fans."
With an interface that looks a bit like Facebook-meets-Instagram, with hints of Pinterest and Windows 8, we watch as Croft clicks through his photos and then his "Mixes," which include a series of playlists organized under such headings as songs with rain in the title, songs to play while you're downtown and a list with just cover tunes.
The "Jake's Housewarming" playlist, for instance, features songs by M.I.A., Lykke Li, Daft Punk and the Cure, along with a gallery of photos from the event.
The "Connections" tab takes you to a photo gallery of your Myspace friends, with, ahem, a big photo of Timberlake and a plug for his new movie, "Trouble With the Curve."
Watch, AFTER THE JUMP…
The new Myspace from Myspace on Vimeo.