Weird news out of Malaysia, from Reuters:
The Malaysian
government has begun holding seminars aiming to help teachers and
parents spot signs of homosexuality in children, underscoring a rise in
religious conservatism in the Muslim majority nation.

So far, the Teachers Foundation
of Malaysia has organized 10 seminars across the nation. Attendance at
the last event on Wednesday reached 1,500 people …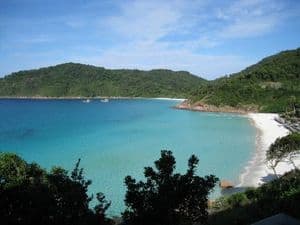 The "signs" of homosexuality include, among boys, an affection for v-neck shirts, the wearing of sleeveless shirts, the wearing of tight clothes in general, the using of handbags, and being muscular. The Malaysian government is less clear on how to spot lesbians. Their advice to girls' parents: Make sure your daughter avoids sleepovers.
From the Agence France-Presse:
"Definitely we support the seminars because it's good for parents to
be exposed to LGBT symptoms," Deputy Education Minister Mohamad Puad
Zarkashi told AFP on Friday, while declining direct comment on the
guidelines.

"At least preventive action can be taken," said
Mohamad Puad, who officiated one of the seminars in northern Penang
state earlier this week.
What "preventive action" might mean in this context is unclear. Reuters notes that a government-run camp now exists in the Malaysian state of Terengganu, where "effeminate" boys are taught to butch up.
In Malaysia, homosexual acts are officially punishable by up to 20 years in prison, though penalties are seldom enforced.