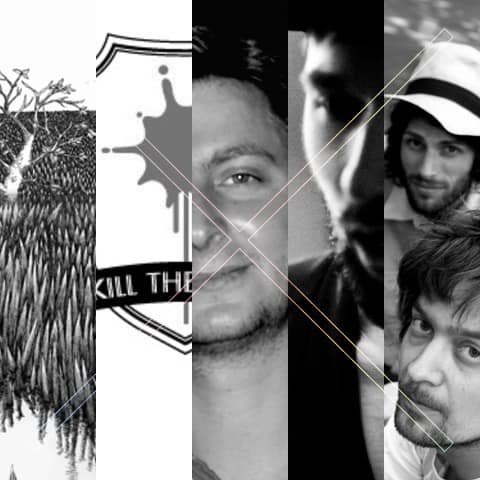 BY OCCUPY THE DISCO / TADEU MAGALHÃES
The OXD Mirror is a weekly music column brought to you by the boys of OCCUPY THE DISCO (OXD), a New York City based movement created by three music lovers, Ru Bhatt, Josh Appelbaum, and Tadeu Magalhães, who want to share their love for disco, house and dance music with the world.
Emeron & Fox: 'Nightmares (Monitor 66 Remix)'
Brooklyn synthpop duo Emeron Kale and Fox Barrington craft beautiful, sweet audible landscapes, putting them in the same musical league with big acts such as Postal Service. Though the original version of their track 'Nightmares' is very ambient and chill, Swedish trio Monitor 66 re-shapes it to an upbeat house track that has one wishing it was sunny and breezy all year long. 
Kill The Hero feat. MK de Monde: 'Surrender (Shazam Remix)'
'Surrender' is a brand new blissful dance track that comes to us from the land of the rising sun. The Japanese duo known as Kill the Hero is releasing a remix package for this song soon and this version by Shazam is already out and making waves on the music scene.
Social Disco Club: 'Just One Touch (feat. Miss Bee)'
Allegedly working on 'Just One Touch' for two years, Porto-based producer Social Disco Club has put together deep house beats, 90's piano melodies and sexy vocals by Miss Bee on this track to create an uplifting mood that is perfectly suitable for a night of dancing.
MORE NEW TRACKS, AFTER THE JUMP…
Monsoon Season feat. Miss Bee: 'Green On Blue (Arsenii Deep Vocal Mix)'
Miss Bee is featured again on Monsoon Season's 'Green On Blue'. The original release features remixes by Moon Boots and Satin Jackets, and now a deep house re-work by Russian act Arsenii is making its way out to the world and into our playlists. 
Neneh Cherry & The Thing: 'Cashback (Lindstrøm & Prins Thomas Remix)'
When Lindstrøm and Prins Thomas join forces, we know there's something great in store. The Norwegian producers have been collaborating and writing disco songs together for years, and have released two albums and several amazing remixes—the latest of which being a revamp of  Neneh Cherry & The Thing's 'Cashback.' This remix maintains some of the original's unique jazzy elements while updating it into a groovy disco track.
OCCUPY THE DISCO (OXD) curates and recommends music events to the gay community in NYC—in an effort to move the focus of the nightlife scene beyond the promoter and venue and to the music itself. OXD's goal is to educate, entertain, engage and empower the gay audience to reclaim their ability to question and experience the unknown. The OXD Mirror will serve to showcase tunes that are definitely off-the-beaten-path but rightfully deserve the attention of the gay ear. It's music that will make you dance, dream, and most importantly, love.
This week's post was written and curated by Tadeu Magalhães.
For more information on OXD, check out our website and accompanying blog at www.occupythedisco.com, like us on Facebook, or follow us on Twitter: @OccupyTheDisco.