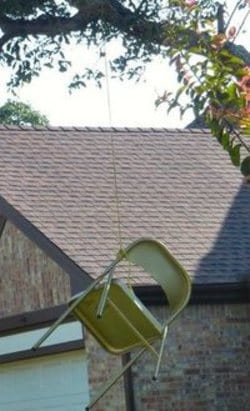 Wow. An Austin, Texas man managed to merge Clint Eastwood's recent "chair as Obama" skit with one of the nation's sickest racist traditions, lynching, by tying an empty chair to a tree in his front yard.
When a fellow citizen expressed her concern over his method of protest, the man, Bud Johnson, reportedly yelled, "I don't really give a damn whether it disturbs you or not… You can take [your concerns] and go straight to hell and take Obama with you. I don't give a sh*t. If you don't like it, don't come down my street."
The website Burnt Orange, which first drew attention to this display of anti-Obama rhetoric, explains how the transitive property of violent hate works here. You know, just in case the meaning is lost:
One could easily argue "it's just a chair, what's the big deal? That's not racist!"

However, in light of Clint Eastwood's speech at the Republican National Convention, in which he had a largely one-sided conversation with an empty chair he pretended was Barack Obama, this imagery is now associated with the President.

The image of the chair is associated with the President. Now, lynch that chair from a tree, and you've got a pretty awful racist sentiment calling for lynching the first African-American President!