The Supreme Court released its list today of cases they will take up this session and none of the DOMA cases nor the federal Prop 8 case is on the list.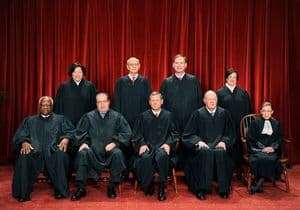 The American Foundation for Equal Rights writes:
The Justices meet nearly every week to determine the cases they will take up. The next time we could hear something is Monday, October 1 at 9:30 a.m. EDT / 6:30 a.m. PDT, when the Court is expected to release a list of cases it is not hearing this Term.
Some have speculated that the Supreme Court may wait to consider our case until later this fall when the Justices will decide whether to grant review in several cases challenging the so-called Defense of Marriage Act.
Chris Geidner wrote, over the weekend:
If the court does consider all of those cases together, recent actions by the Department of Justice could put off a decision about Proposition 8 even further. On Sept. 11, DOJ filed two petitions for review in DOMA challenges — one in Edith Windsor's challenge brought by the American Civil Liberties Union and one in the Pedersen case brought by Gay & Lesbian Advocates & Defenders. Even though the ACLU and GLAD already had requested Supreme Court review of those case, the DOJ filings mean that the House Republican leaders who have been defending DOMA in court would have had until October 11 to respond to DOJ's filings. The court already has extended that deadline until Oct. 19. The petitions and responses in those cases would then be distributed "no less than 10 days after" the House Republican leaders' brief in opposition to the petition is filed, which would be Oct. 29.
The earliest conference for briefs ready to be distributed on Oct. 29 would be the conference of Nov. 20 — well after the presidential election.