Rep. David Cicilline (D-RI) (pictured), one of four openly gay members of Congress, won his primary last night against Anthony Gemma whom he faced in his first run for the House and will now face anti-equality Republican Brendan Doherty this November, the Victory Fund reports.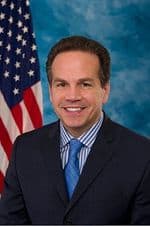 They also report on two more big races that saw favorable results yesterday.
Two candidates seeking seats in the Delaware legislature could become the first LGBT candidates to fill them, as both won their primaries last night. " Andy Staton is seeking a seat in the Delaware Senate, while Marie Mayor is running for State House seat," the VF reports.
And New Hampshire has elected an openly gay state Senator: "[David] Pierce is the first openly LGBT candidate to be elected to the state senate as a freshman.  Two other gay state senators came out while in office, but none are currently serving."
Congrats to all.