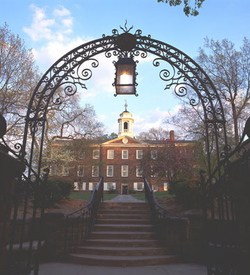 Tyler Clementi's suicide opened the nation's eyes to homophobic bullying, but no place was deeply impacted as Rutgers University, the New Jersey institution where Clementi had just started his freshman year. Since Clementi's death, the school has vastly improved its LGBT outreach and extracurricular efforts.
According to The New York Times, Rutgers Center for Social Justice Education and L.G.B.T. Communities' budget has expanded from $45,000 the year Clementi died, 2010, to $70,000 today.
And campus participation too has become a cornerstone of the University's fight against anti-gay attitudes:
…Today, gay, lesbian, bisexual and transgender students and their supporters can choose from four specialized housing options, three of them new, ranging from a service to pair them with like-minded roommates to Rainbow Perspectives, a floor in a residence hall organized around common interests. They can now turn for support to the 130 staff and faculty members who have been trained as official campus liaisons, or to the graduates of a new training program for "allies," whose inaugural session is already booked to capacity. This year's edition of a handbook that lists campus resources for "queer issues" is 92 pages long.

And this week, Campus Pride, an organization that rates schools based on the inclusiveness of their policies, upgraded Rutgers's main campus in New Brunswick to the maximum rating, five stars. Out of the 32 possible categories in which a school can distinguish itself, Rutgers scored in 31.
Though there's no way to completely eradicate homophobia, it's clear that the inclusive culture is gaining ground, and outright anti-gay sentiments are clearly becoming less socially acceptable. "A lot of people who might be homophobic probably won't say so because of the consequences they can see can happen," said Robert S. Goopio, president of the school's gay fraternity, Delta Lambda Phi.
Perhaps the most telling manifestation of an increasingly aware campus is the consistent run on "ally" lapel buttons being provided by the Social Justice Center. They're being snatched up faster than the school can make them.