John David Mahaffey, a 19-year-old Southern Methodist University sophomore whose great-great grandfather was on the university's founding committee and whose grandmother, father, and two aunts are also alums, has been suspended from the Sigma Phi Epsilon fraternity and banned from campus after SMU issued a crime alert with regard to a sexual assault at 3 am last Sunday morning that Mahaffey later admitted to in a phone call recorded by police. Mahaffey, of Springfield, Mo., is a Hunt scholar, a student senator, a scholarship committee chairman, and an officer on SMU's Inter-fraternity council, NBC5 reports.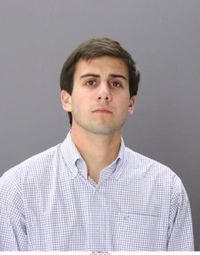 The Dallas Morning News reports:
According to the affidavit, the other man, who is also an SMU student, said Mahaffey forced him to give oral sex. He told Mahaffey "no" and "stop" several times, but felt intimidated and was afraid Mahaffey would get violent. He said Mahaffey told him "you better not tell a soul," the affidavit said.
The next day, the student met with SMU police and agreed to record a phone call with Mahaffey. During the phone call, he told Mahaffey "you know I did not want to do that?" According to the affidavit,  Mahaffey replied, "I know you didn't, but we have to say it was consensual or lawyers, parents, and the school will be involved."
NBC5 Dallas reports: "Debbie Denmon, a spokeswoman for the Dallas County District Attorney's office, said Friday that the case probably will be referred to a grand jury in the next few weeks. Mahaffey was released from the Dallas County jail on $25,000 bond. He did not return a phone call seeking comment."
Watch NBC5's report, AFTER THE JUMP…
View more videos at: http://nbcdfw.com.