Support for marriage equality has seen a 10-point increase in just two years, according to a poll released on Wednesday, the Rockford Register Star reports: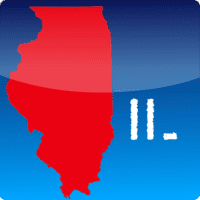 Forty-four percent of those polled said they believe gay and lesbian couples "should be allowed to legally marry," according to Southern Illinois University's Paul Simon Public Policy Institute. When the same institute asked that question in 2010, only 34 percent backed gay marriage.
The latest poll found 32 percent of respondents prefer civil unions for gay couples, while 20 percent believe "there should be no legal recognition." Opposition to any legal recognition for same sex couples was nearly 27 percent in 2010.
The poll of registered voters was conducted Sept. 4-10 by telephone, both land lines and cellphones, and has a sampling margin of error of plus or minus 3 percentage points.
Rep. Greg Harris called the change "monumental" and attributed it to wider public discussion of the issue and the support of LGBT allies.