Roy McDonald, the GOP New York Senator who supported marriage equality last year but was defeated this week by 50 votes in a primary against his opponent Kathy Marchione, has received the "full endorsement" of Governor Andrew Cuomo and may run as a third party candidate.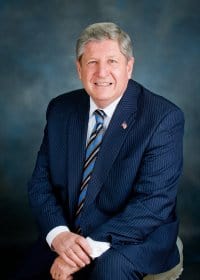 The Albany Times-Union reports:
"While I am not well informed on your local politics, I do believe that your support of marriage equality was a contributing factor to your defeat," Cuomo wrote. "When an elected official votes his or her conscience, especially when it's not easy, I respect it. I was raised in a tradition which valued political courage, honor and integrity over political success. I hope to pass on those values."
"You should not be left to stand alone now," Cuomo's letter continued. "I understand you are at a crossroads, and I do not presume to understand your politics or offer advice as to what is the best course for you to pursue for your career and your family beyond this: follow your heart, it has served you well thus far."
The paper adds:
Two gay rights advocates told the Times Union that donors who stuffed McDonald's coffers so far during the cycle would again line up behind him in a general election to prevent their foes from using McDonald's defeat as a warning to others who might join the cause of marriage equality. Records show the candidate spent roughly $850,000 during the primary, and outside groups spent more.
A new poll shows McDonald winning as an independent:
The poll, released by New York Unity PAC, showed McDonald garnered support from 45 percent of voters in the four-county 43rd Senate District running on the Independence Party line, which he secured this summer. Saratoga County Clerk Kathy Marchione, who defeated McDonald in a Republican primary and also holds the Conservative Party line, gathered 28 percent of the vote and Democratic candidate Robin Andrews was supported by 15 percent of voters.
Additionally, the poll found 86 percent of the 302 voters surveyed (a smallish sample in the world of polling, which yielded a 5.7 percent margin-of-error) had heard of McDonald, and 49 percent of them had a favorable impression compared to 29 percent who didn't. Marchione's favorability rating was 30-29, and Andrews was largely unheard of with a 4-4 rating.
UPDATE: Sources now tell the Times Union that McDonald won't run.
UPDATE II: McDonald drops out, says he'll support Marchione.