NATO Secretary-General Anders Fogh Rasmussen says he is not worried about threats from the Afghan Taliban stating that they've launched an aggressive campaign to capture Prince Harry dead or alive, Reuters reports: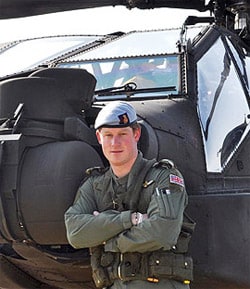 Queen Elizabeth's grandson is in Afghanistan on a four-month tour, based out of Camp Bastion in the volatile Helmand province, where he will be on the front line in the NATO-led war against Taliban insurgents.
"We are using all our strength to get rid of him, either by killing or kidnapping," Zabihullah Mujahid, a Taliban spokesman, told Reuters by phone from an undisclosed location.
"We have informed our commanders in Helmand to do whatever they can to eliminate him," Mujahid added, declining to go into detail on what he called the "Harry operations".
Said Rasmussen: "That's not a matter of concern to me. We do everything we can to
protect all our troops deployed to Afghanistan whatever might be their
personal background."