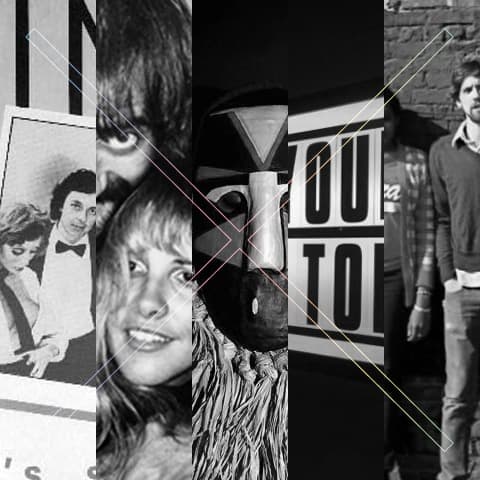 BY OCCUPY THE DISCO / JOSH APPELBAUM
The OXD Mirror is a weekly music column brought to you by the boys of OCCUPY THE DISCO (OXD), a New York City based movement created by three music lovers, Ru Bhatt, Josh Appelbaum, and Tadeu Magalhães, who want to share their love for disco, house and dance music with the world.
This week's OXD Mirror will feature some new edits of a few throwbacks and of course some new original tracks as well.  A lot of this week's tracks are free downloads – so enjoy the free tunes!
The Limit: 'She's So Divine (Estate Rework)'
As history would have it, Disco music suffered a quick but painful death at the end of the 70's.  The Limit was a Dutch production duo that came about in the post-disco era from the early to mid 80s.  Their music had a sound that could be interpreted as either behind the times or way ahead of the curve; it evokes the days of disco but includes a sophisticated electronic production reminiscent of Daft Punk. Though 'She's So Divine' was released in 1982 on Arista Records, it never charted.  Electro funk group Estate has taken this oft-forgotten production and revamped it for 2012, creating a version that is smooth and funky and inspires lots of hip shaking and body movement.
Fleetwood Mac: 'Dreams (Psychemagik Remix)'
Legendary band Fleetwood Mac has an appeal that spans across many generations.  Their only #1 hit (and my personal favorite) was 'Dreams', recorded during the tumultuous recording period for their hit album Rumours.  Stevie Nicks wrote this song in response to ex-lover and bandmate Lindsey Buckingham, who had just brushed her off with his self-penned song for the band, 'Go Your Own Way'.  The original track is morose and understated; British DJs Psychemagik add a slick, chic backing to the song and play around with vocals, extending them out in certain parts to highlight the depth of Stevie Nicks' voice.
Chordashian: 'Illusion'
Cleverly-named NYC duo Chordashian have been together since 2011 and have kept busy by remixing work from other artists and DJing after releasing their debut EP Don't Wait Up earlier this year.  'Illusion' is an original song that samples Madonna's standout track from the Confessions era, 'Get Together'.  The song showcases Chordashian's production skills that helped them gain notoriety in the nu-disco scene, with sophistication and complexity that is wise beyond their years of experience.
ON TO THE NEW TRACKS, AFTER THE JUMP…
SBTRKT feat Sampha: 'Hold On (Burnski Desert Edit)'
London-based musician and producer SBTRKT (pronounced as "subtract") might want to remain anonymous (he even wears his signature tribal masks at performances), but he has worked with big names like M.I.A., Basement Jaxx, and Radiohead, and even produced his own original track with Jessie Ware on vocals.  His frequent vocal collaborator Sampha is featured on his latest track 'Hold On', a simple, vocally-infused track with xylophone chiming in between verses.  Berlin-based DJ and producer Burnski adds asoulful house beat to the track, creating a perfect sunset dancing tune and proving Burnski is more than just a pretty face.
Up Yours: 'Tonight'
Up Yours is a tag team of DJs Hifi Sean and Severino (from world-famous Horse Meat Disco) who are well known on the London disco and after hours scene . Their original house recording 'Tonight' showcases the London house music scene at its best, with plenty of drama and in-your-face beats.  The duo rejiggered the original version to create an "after hours" mix of the song; the sleek metropolitan feel has just enough vocals to keep the energy up at a dance party running until the wee hours in the morning.
Body Language: 'I'm A Mess'
After scoring a hit with last years 'Social Studies', multi-member music act Body Language is back with a new EP Grammar.  The Brooklyn-based act is now on tour to promote their new release, which features the ethereal space disco sound heard on their last album.  Although it is not the lead single, 'I'm a Mess' shines as a particularly unique album track: it's a sweet love song with a mellow, outer space dance beat. With 'Social Studies' getting the remix treatment from start producers like Plastic Plates, we are excited to see what reinterpretations are in store for all of the tracks from this EP.
OCCUPY THE DISCO (OXD) curates and recommends music events to the gay community in NYC—in an effort to move the focus of the nightlife scene beyond the promoter and venue and to the music itself. OXD's goal is to educate, entertain, engage and empower the gay audience to reclaim their ability to question and experience the unknown. The OXD Mirror will serve to showcase tunes that are definitely off-the-beaten-path but rightfully deserve the attention of the gay ear. It's music that will make you dance, dream, and most importantly, love.
This week's post was written and curated by Josh Appelbaum.
For more information on OXD, check out our website and accompanying blog at www.occupythedisco.com, like us on Facebook, or follow us on Twitter: @OccupyTheDisco.