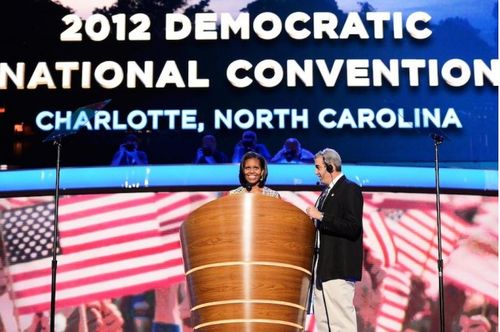 With the GOP convention fading into memory it's the Democrats' turn this week from Charlotte. If you aren't near a TV you can watch the convention live on YouTube. The DNC is a much more friendly place for the gays, especially since marriage equality is part of the Democrats official platform. Michelle Obama will be the headline speaker tonight where she will likely compare and contrast her husband with Mitt Romney, even if she doesn't mention Romney by name. In addition to speaking in front of the national media tonight, the First Lady will also show that she is a friend to the LGBT community by headlining an equality event in Charlotte.
If you have DNC fever, check out this video of the convention stage going up in elapsed time. 
With attention on the Democratic platform, the GOP is hitting the airwaves with a couple of attack ads. The first is a ridiculous anti-gay ad from the Campaign for American Values which tries to claim that Obama is forcing gay marriage on Americans. The second comes from Florida Republicans looking to smear former Gov. Charlie Crist over his decision to endorse Obama and speak at this week's convention. In addition, the RNC has launched a site that claims Obama isn't working. Also, gay Republicans are still trying to desperately explain themselves. 
In other news, Paul Ryan has the worst but also kind of the best Secret Service code name. 
Conservative fundamentalist David Barton believes that gay rights means the U.S. is going down. Aside from his word choice, let's just say that he is gonna be really pissed when he finds out about the gym that shares his name. Hank Williams Jr. also hates the gays. And pretty much everyone else. Just when you thought that Chick-fil-A's anti-gay celebrations were over, Montana has decided to belatedly get in on the act. In a final bit of depressing news, a report has surfaced that police in Kenya are blackmailing gay men. 
On the brighter side of things, we should all book our next vacation with Expedia because they are backing marriage equality in Washington State. Gays in Ireland are happy today as the Dublin City Council overwhelmingly approved marriage equality. If you live in Minnesota, you can check out Zach Wahls on his pro-equality tour of the state. Also, Rickie from My So Called Life is joining the GLAAD team. 
If you're a Matrix fan check out this New Yorker profile of the Wachowskis. Lana also talks in depth about her transition from Larry. 
Lastly it's a rainy and gloomy day here in New York, so here is an adorable sleepy bear cub to make you happy.