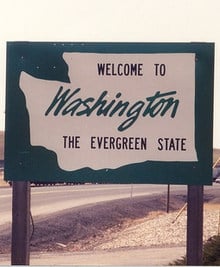 The progressive Courage Campaign announced today that they too are joining the fight for Referendum 74, the ballot measure that will maintain marriage equality in Washington state.
"This is the civil rights issue of our time and we will be investing major
resources in Washington to ensure the historic act of the governor is
not overturned. We could not be more thrilled to join with Washington
United for Marriage to ensure equality is protected in Washington
state," Courage Campaign founder Rick Jacobs in a press release. Courage chose Washington's fight after polling their estimated 750,000 members on which of the states deciding on marriage laws should get the national organization's attention.
Washington United For Marriage campaign manager Zach Silk said he and his allies are "grateful" for Courage Campaign's involvement: "Between their robust membership and their campaign staff support, we're
delighted to get a fresh infusion of talent and those all-important
campaign dollars as we head into the thick of this election season," he said. With the Expedia backing, Bill Gates and Jeff Bezos' millions, and the dearth of fundraising and popular support for anti-gay opponents, it's safe to say this one's in the bag. But, you know, it's never good to get cocky when it comes to the ballot box.