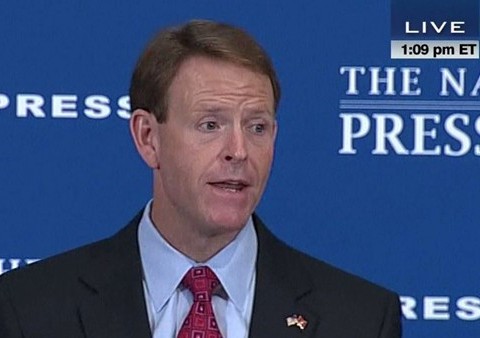 After speaking at the National Press Club yesterday, Family Research Council president Tony Perkins was asked whether or not he would disown one of his children if they came out. Calling the question a "gotcha question," Perkins claimed he would still love a gay child, but would tell them that their "lifestyle choice" damages them and society as a whole.
"If we [parents] really love them, we'll be willing to tell them the truth that the choices that they have made, continuing what they're doing, are both destructive to them personally and society as a whole," Perkins said. "And so while I would disagree with my child getting involved in that lifestyle, I would not in any way — nor would I ever encourage a parent — to disown a child because of something like that that occurs. Love them compassionately, pray for them, but don't condone and enable that behavior, whatever it might be."
He went on, as conservatives do, to compare being gay to being a drug addict, and threw in a little condescension in there, as well: "That's not to say that those whose children may have ended up in homosexuality were not good parents. We can't guarantee that. We can do our very best job as a parent and still something may happen, whether they end up in drugs or whether they end up in some other lifestyle that they end up."
I've included video of Perkins' remarks AFTER THE JUMP.