Vice PResident Joe Biden visited and Obama for America office in Chillicothe, Ohio over the weekend and had a private meeting with a lesbian couple in which he assured them marriage equality is on its way: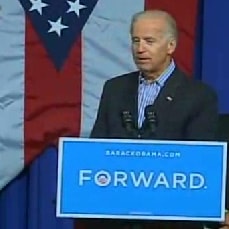 During the visit, he pulled off to the side to speak to two middle-aged women in private. The two women were Cathy Pool and her partner of 25 years, Mendy Yates.
During their conversation, speaking about marriage equality, he told the couple, "It's going to happen."
He "thanked us for the courage to hang in there," Ms. Pool said. "He told us, 'It's going to happen.'"
Ms. Pool said the president announcing his support for same-sex marriage meant "everything in the world."