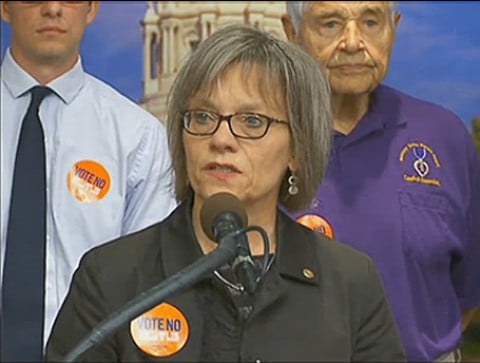 Lori and Jeff Wilfahrt, the parents of Andrew Wilfahrt, a gay soldier slain in Afghanistan in 2011, helped launch Veterans United yesterday, a group dedicated to equality in Minnesota which says it will work to defeat the anti-gay amendment on November's ballot.
Watch Lori Wilfahrt speak, AFTER THE JUMP…
Pioneer Press reports:
The group will work in partnership with Minnesotans United for All Families, the main group opposing the amendment, speaking against the measure around the state. Officials said the veterans group already has more than 100 members.
"All soldiers take an oath to protect and defend the Constitution. And as it stands today, our state constitution protects rights and freedoms for all citizens," said Lori Wilfahrt. "But if this amendment passes, it will actually restrict freedom."
"The U.S. military is on our side of this marriage definition issue," said Jeff Wilfahrt, and he issued a direct appeal to veterans to join the opposition. "You once took the call, you did your duty, you defended the Constitution. Then you did it with arms. This fall you can do it with an ink pen. I urge you to vote no. Your brother in arms laid down his life for that reason."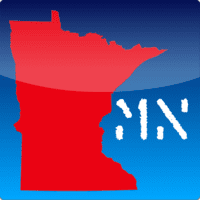 A new poll from the Star Tribune on the amendment came out this week:
Six weeks before Election Day, slightly more Minnesotans favor the amendment than oppose it, but that support also falls just short of the 50 percent needed to pass the measure.
Among likely voters, 49 percent would approve constitutional language that defines marriage as only the union of a man and woman. Another 47 percent oppose the measure, while 4 percent are undecided. Minnesota law requires any change to the Constitution to capture a majority of all ballots cast. That means a voter who skips the question is counted as a no vote.
The poll shows growing support for civil unions:
The poll shows overwhelming support for civil unions that would offer gay and lesbian couples the same legal rights as marriage. Overall, 68 percent of respondents would support civil unions while only 23 percent would oppose them. The support cuts across every demographic and party line. The poll interviewed 800 likely voters between Sept. 17 and 19 and has a margin of error of plus or minus 3.5 percentage points.