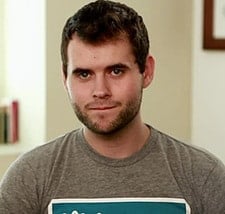 Zach Wahls, the University of Iowa student whose speech before the Iowa House about his gay mothers became an instant viral video sensation, embarked yesterday on a week-long tour through Minnesota, where he hopes to persuade citizens to vote against a constitutional amendment prohibiting marriage equality.
On Top provides some details on Wahls' itinerary:
Wahls' first stop was the Minnesota State Fair, where he helped man the booth of Minnesotans United for All Families, the coalition of groups working against passage of the amendment. Later in the day, he spoke at the 19th annual Duluth Labor Day Picnic.

On Tuesday, Wahls will help launch the University of Minnesota Duluth group UMD Students United for All Families. And later in the week, he is scheduled to speak to students at St. Cloud State University and the University of Minnesota.
Wahls has since last year become one of the most visible pro-equality activists in the nation. He penned a book, My Two Moms: Lessons of Love, Strength, and What Makes a Family, has appeared on countless national television shows, including Ellen DeGeneres' talk show, has been instrumental in combating homphobia in the Boy scouts and recently toured Iowa to explain why the Hawkeye State is lucky to have marriage equality, and why such rights should be extended from coast-to-coast.
He's basically a superman for equality.