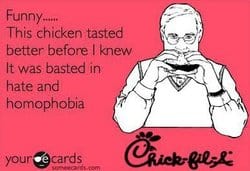 The Montana Family Foundation, one of the many conservative groups that idolize Chick-fil-A for CEO Dan Cathy's hideously homophobic politics, plans on launching a second "Chick-fil-A Appreciation Day".
Calling it an opportunity to support traditional family values the
Montana Family Foundation will open a Chick-fil-A drive through in
Billings for one day in September. The chicken will be available for one
day only in Billings' west end on Saturday, September 8th from 3:00
p.m. to 6:00 p.m. This one-day drive-thru event is called Chick-fil-A
Appreciation Day 2.0.

For a suggested donation of $20 per person the public is invited to
attend this fund-raising event where hot Chick-fil-A chicken, coleslaw
and chocolate chip cookies will be available to the first 1000 people.
It should be interesting to see if the Montana Family Foundation actually brings in that many chicken loving conservatives.