A group of 63 priests with more than 800 combined years of service to the church are coming out in support of marriage equality on Thursday, the Seattle PI reports: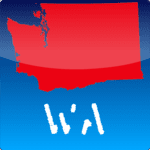 "We are uneasy with the aggressive efforts of Catholic bishops to oppose R-74 and want to support the 71 percent of Catholics (Public Religion Research Institute) who support civil marriage for gays as a valid Catholic position," they said in a statement.
Former priest Pat Callahan, who organized the statement, added:  "This is the first public action we've taken."  Callahan was in the Catholic priesthood for 15 years.
Over the weekend, Catholic Bishop Joseph J. Tyson of the Diocese of Yakima told his 41 parishes that same-sex marriage endangers religious liberty.
In related news, NOM-backed group Preserve Marriage Washington just injected $650,000 into the battle there.
Writes Dominic Holden at Slog:
The statewide dialogue up to now has been controlled almost entirely by gay-rights advocates. The advantage we have now is one that exists before the anti-gay campaign even opens its mouth. Their ads begin airing on October 15, and they will get more traction with less money. Reserved to the tune of $1.5 million, the ads are being designed by Frank Schubert, whose commercials in Maine depicted girls marrying princesses, a chalkboard with the words "gay sex," teachers discussing penetration, and the looming—dishonest—specter that "homosexual marriage will be taught in schools."
To scare the sh*t out of Washington, they only need enough money for one statewide blitz. And now they've got it.
Help out Washington United for Marriage here.