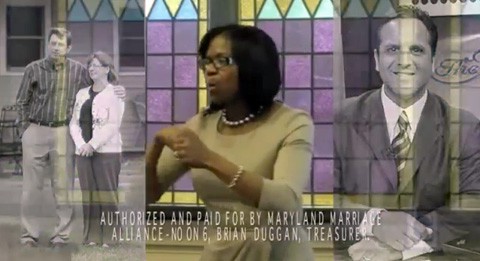 Maryland Marriage Alliance, one of the conservative groups trying to stop marriage equality in that state, thought they hit the jackpot when Gallaudet University suspended diversity provost Angela McCaskill for signing a petition to put same-sex nuptials on the November ballot. She had been intimidated and threatened, they said, and they used that very point, and video of McCaskill, in a recent commercial.
"When marriage has been redefined elsewhere, as Question 6 does, people who believe in traditional marriage have been punished," says the ad. Unfortunately for them, McCaskill simply wants to be left alone.
"No one has the right to decide what my signature meant," she said yesterday. She and her attorney, Wyndal Gordon, are now asking Maryland Marriage Alliance to remove her from their propaganda.
"She has been neutral. She has not opined one way or another. The marriage alliance folks have taken a position for her. Well, that's the same thing Gallaudet did on the other side of the spectrum," said Gordon.
Citing copyright ownership of the McCaskill video, Gallaudet has also asked Maryland Marriage Alliance to stop playing the ad, but the group says they have no intention of stopping.