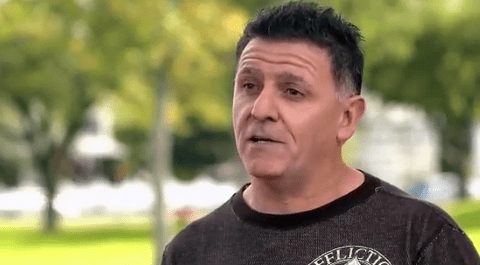 Scott Brown may want to put more energy into vetting the stars of his campaign commercials.
In a recent ad put out by the Massachusetts senator's reelection campaign, a union worker named George Patriarca blasts Democratic rival Elizabeth Warren for allegedly taking workers made ill by asbestos to court. Her campaign denies his version of events and, as Matt Sledge at The Huffington Post notes, the Boston Globe has called the ad "misleading."
Sledge also points out that Patriarca's Facebook page is littered with anti-gay, anti-Semitic and all around jerky messages, including one in which he calls Warren a "douchebag." He also calls President Obama a "faggot" and in another post, about his time at Brandeis University, Patriarca wrote, "I attended Brandeis… Jew U. Great school. the people, not so much. One thing I learned is that Jews have a persecution complex and they hate themselves. That is why I believe they vote for liberals."
Brown's campaign had no comment, because, really, what can they say? Patriarca's Facebook page, meanwhile, has gone mysteriously dark.
Watch the Scott Brown ad and see some screenshots of Patriarca's Facebook page, provided by the excellent website The New Civil Rights Movement, AFTER THE JUMP.