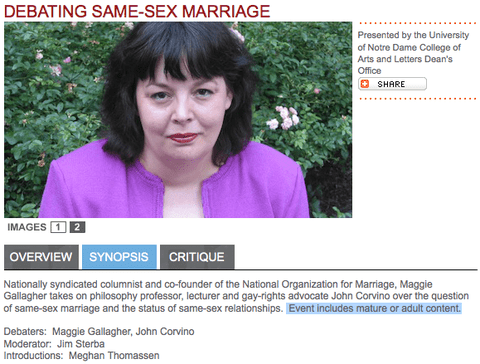 Either the DeBartolo Performing Arts Center at Catholic Notre Dame University anticipates some kind of sexual revolution at an upcoming discussion about marriage equality or the center truly thinks a debate about people's rights crosses the line of decency, because the announcement for the event says that the talk "includes mature or adult content."
Or maybe they're just warning people about National Organization for
Marriage's Maggie Gallagher, whose lies, to be lobbed at Wayne State University professor John Corvino next Thursday, definitely qualify as "adult content"
Oliver Darcy at Campus Reform offers more background on Notre Dame's long and complicated relationship with LGBT people:
Notre Dame University is a private catholic institution which is
technically bound by Catholic Doctrine which teaches that homosexual
behavior is a violation of divine law.

The Catholic institution, however, is also reconsidering some of their policies regarding LGBTQ issues.

Administrators have recently been urged to allow a proposed
gay-straight alliance on campus. A petition, signed by 366 Notre Dame
faculty and staff, was published in the student paper demanding the
repeal of a long-standing policy that forbids such a club from being
sanctioned.