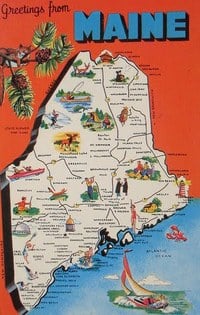 Protect Marriage Maine, the discriminatory group bent on stopping a ballot measure that would allow gay marriage, is set to release two new TV ads tomorrow.
The first will feature Donald Mendell, a public school counselor who helped pass a 2009 referendum that repealed marriage equality there. His participation led to the filing of a complaint with the Maine Department of Professional and Financial Regulation. The complaint insisted Mendell "does not have the right as a licensed social worker to make public comments that can endanger or promote discrimination."
Mendell is now using that complaint in his commercial for Protect Marriage Maine, saying, "I was a successful school counselor in Maine for over 20 years — once nominated as teacher of the year. Yet when I supported traditional marriage, they tried to get me fired."
Caroll Conley from the thankfully out-funded Protect Marriage Maine claims allowing marriage equality will hurt his and others' religious freedoms, "There's no tolerance for anyone who dares to speak out against their definition of marriage. Don Mendell is the perfect example… We think people's religious liberties go far beyond the walls of the church." Even into the state structure?
The second ad reportedly says same-sex couples want to "redefine marriage" and should instead settle with domestic registries: "'Every Mainer has a right to love whom they choose but nobody has the right to redefine marriage." The ads are being paid for in part by the National Organization For Marriage, which still refuses to release the names of donors from its 2009 initiative to ban marriage in Maine.