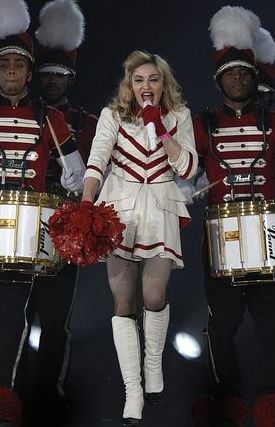 Conservative activists in St. Petersburg are still trying to sue Madonna for hurting their feelings when she spoke out in favor of social progress and equality during a recent concert there.
Antigay Russian activists have obtained Madonna's home address in New York City and sent her a summons to show up at a Russian court. Nine plaintiffs are desperate to make "Madge" pay after suffering "moral damages" at her gig in St. Petersburg.

­Another summons was issued to the address of Madonna's gym Hard Candy in central Moscow. However, gym staff insist they have not received any letter from St. Petersburg, and thus can't inform their Big Boss.

The pro-Kremlin group Trade Union of Russian Citizens wants the Material Girl in court for blasphemy and for damaging the cultural foundations of St. Petersburg. Nine activists filed a suit against the pop star after her concert on August 9.
…
All the fuss is because of Madonna's actions on the stage. The pop diva started her show asking fans to raise their hands with pink bracelets, which they were given on the entrance, in support of homosexual rights.

It is, however, illegal to promote homosexuality in St. Petersburg. The local law, which bans so-called "propaganda of sodomy, lesbianism, bisexualism and transgenderism, and pedophilia to minors," was passed in March this year.
Union spokesperson Darya Dedova griped that Madonna "insulted believers' feelings, she promoted homosexuality when there were children at the concert and this is forbidden in St. Petersburg. We, the residents of the cultural capital, suffered a colossal moral damage."
And apparently you can put a price on so-called moral damage: the Union is asking for $10 million.