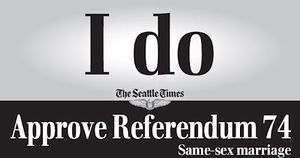 The Seattle Times' publishing side, hoping to boost revenue for the struggling paper, decided recently it would become more involved in campaign matters.
To that end, they ran an ad this week endorsing GOP gubernatorial candidate Rob McKenna, an independent-expenditure that cost them about $80,000.
Now the paper is reportedly prepping to spend the same amount on an ad pushing for the passage of Referendum 74, a ballot initiative that would legalize marriage equality in the Evergreen State:
The decision to run the ad was made by the corporate side of the newspaper and was "completely separate from the journalism functions of the newspaper," said Alan Fisco, executive vice president, revenue and new products, for The Seattle Times.

The company intends to run a similar campaign in support of Referendum 74, to legalize same-sex marriage, Fisco said in a news release.

Fisco described both efforts as a Seattle Times pilot project to show the power of newspaper political advertising and to attract new revenue for the newspaper. "We decided to try to tap into this important source of advertising revenue by demonstrating how effective advertising with The Times can be," he said.

Fisco added that the company will analyze the effectiveness of the ad campaigns and present the results to political consultants and campaigns to convince them to advertise more in the newspaper.
Executive editor David Boardman insists he and his fellow reporters had nothing to do with the decision, nor do they have anything to do with the paper's other pro-gay efforts, but critics say the business side's decision taints their work anyway.
Roy Peter Clark from the journalism group Poynter Institute, remarked, "It's not the newspaper's problem, it's not the publisher's problem, it's not even the readers' problem, it's the problem of the reporters who are covering these issues and these candidates… Their credibility is at stake."