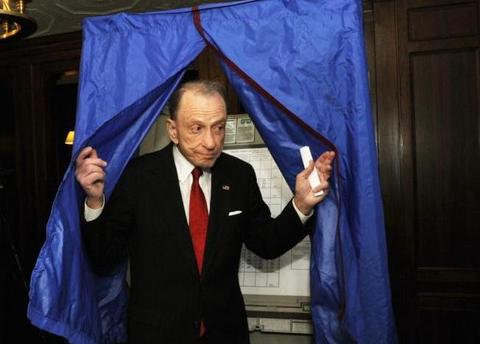 Arlen Specter spent nearly three decades in the U.S. Senate, and before that he made a national name for himself as part of the Warren Commission that investigated John Kennedy's assassination, eventually helping pen the "single-bullet theory" that claimed Kennedy and then-Texas Gov. John Connally were hit by the same bullet. Today Specter's son confirmed that the former Senator, defeated during the Tea Party rise of 2010, has died of cancer, a disease he has battled since 2005. He was 82.
Specter was always a divisive personality in Washington, particularly toward the last few years of his career, like in 2009, when the Pennsylvania senator left the Republican Party after 44 years to become a Democrat. It was that same year that Specter came out in opposition of the Defense of Marriage Act, a federal ban on marriage equality he himself supported in 1996.
"Enacted 13 years ago when the idea of same sex marriage was struggling for acceptance, the Act is a relic of a more tradition-bound time and culture," he said at the time. "Connecticut, Iowa, and Massachusetts have already passed laws recognizing same sex marriage and other states are moving in that direction. The states are the proper forum to address this divisive social and moral issue, not the Federal Government with a law that attempts to set one national standard for marriage."
Specter also supported the repeal of Don't Ask, Don't Tell and urged Congress to pass an LGBT-inclusive Employment Non-Discrimination Act.
In 2010, Specter ran in the Democratic primary to retain his Pennsylvania seat, but was defeated by Joe Sestak. In the years since, Specter has spent his time helping Philadelphia University sift through his extensive archives and personal records to help form the basis of what will be The Arlen Specter Center for Public Policy at Philadelphia University, a center where the long-serving senator's often complicated and always intriguing legacy will live on.