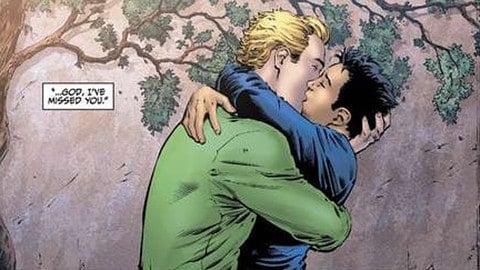 Among the rows and rows of comic books and star artists, New York Comic Con featured a number of panels on cultural and political trends in comic books, including the increased acceptance of gay characters like X-Men's recently married Northstar and Kevin Keller, the gay man who wedded in the pages of Archie Comics.
After the discussion, Skip Harvey spoke with some of the writers behind these and other LGBT characters to explore the behind-the-scenes environment in which these characters are tying the knot. It's as much about business as it is about inclusion.
"There's a propensity for new characters to represent an entire
group," says openly gay comic creator Phil Jiminez. He admits there is a
tendency to be overly careful with gay characters because "fairly or
unfairly, they get stuck with that".

Kevin Keller, the first gay character in Archie comics, is seen as an
important figure in the cultural movement of sexual equality because "everyone in Archie is a good guy. They all try to do the right
thing," Kupperberg adds… That, too is a double edged sword because some feel that gay
characters and their relationships are defined by heterosexual
standards.

"[Green Lantern] Alan Scott was re-introduced not as a playboy, but in a committed
relationship," laments Phil Jiminez. "He was made safe to consumers,"
but if "there's money to be made, they'll put some Queer s*** out
there".
That's probably true.