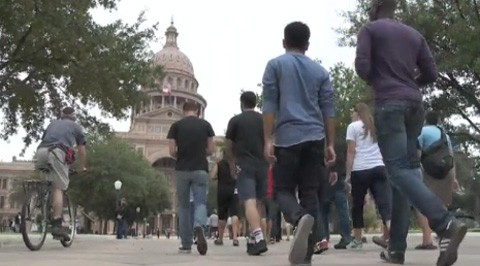 Austin's LGBT community marched against hate in response to an alleged anti-gay assault that happened in the Texas capital two weeks ago during Pride weekend, KHOU reports:
In an rally on Saturday, they marched to the Capitol, spoke out against hate crimes and promised the attacker in the video that he will be arrested.
"I promise you, they will find you," Nick Soret said in a speech at the capitol.
Oppleman still struggles to talk about the night he was attacked. It's something Wyll Silbas said Oppleman won't forget.
Austin, TX police released a surveillance video of the assault late last week, the Dallas Voice reported:
The video shows Nick Soret ordering pizza when a man speaks to him, then knocks his pizza out of his hands. His friend, Andrew Oppleman, intervene and the suspect begins punching Oppleman. Oppleman lost six teeth and suffered a fractured jaw in the attack.
The video was obtained from the pizza truck owner.
The video shows another man who walks up with the attacker. Police arrested Jin Yung Park, 31, that night for public intoxication, but since the incident, he has moved and hasn't returned police phone calls.
Watch a report on the march and rally and teh surveillance video, AFTER THE JUMP…
The surveillance video: