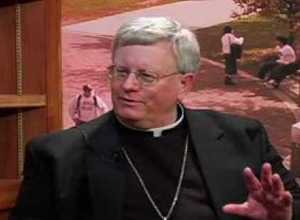 Conservative pastors are really laying on the histrionics ahead of the election. First there was Maryland Rev. Robert Anderson using scripture to say that people who support equality are "worthy of death".
Now we have David Ricken, the Catholic Bishop for Green Bay, Wisconsin, claiming a vote for equality is a vote for evil.
Here's what he had to say in a letter to parishioners sent on October 24th:
A well-formed Christian conscience does not permit one to vote for a
political program that contradicts fundamental contents of faith and
morals…

Some candidates and one party have
even chosen some of these as their party's or their personal political
platform. To vote for someone in favor of these positions means that you
could be morally 'complicit' with these choices which are intrinsically
evil.

This could put your own soul in jeopardy.
Yeesh. That's some strong stuff.
Ricken justifies his letter by claiming the church has a duty "[to] speak out regarding moral issues, especially on those issues that impact the 'common good'."