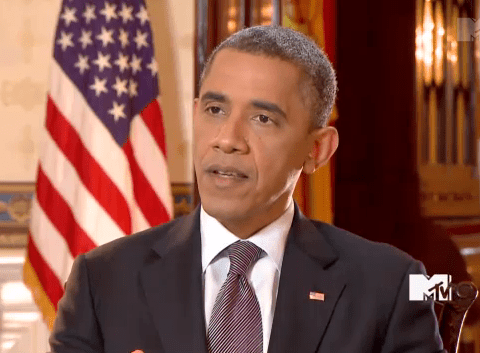 During an interview yesterday, MTV's Sway asked President Obama whether he intends on expanding marriage equality from coast-to-coast during his second term. Reminding him that the federal government and Supreme Court have both intervened in civil rights fights — the 1964 Civil Rights Act and Loving v. Virginia — Sway wonders whether Obama can go further than he already has in terms of gay marriage.
Obama replied by reiterating his much-touted evolution on the issue, telling Sway that meeting loving same-sex couples "taught me that if you're using different words [for marriage], if you're somehow singling them out, they don't feel true equality".
He also stuck by state-based marriage laws, but also said he anticipates the Supreme Court will strike down the Defense of Marriage Act. Here's an excerpt of his response:
Historically, marriages have been defined at the state level. There's a conversation going on… New York has moved forward with one set of ideas; there are some other states that are still having that debate. ANd I think that for us to try to legislate federally into this area is probably the wrong way to go. The courts are going to be examining these issues — I've stood up and said I'm opposed to the so-called Defense of Marriage Act.
…
There are a couple of cases that are working their way through the courts and my expectation is that [DOMA] will be overturned, but ultimately I believe if we have that conversation at the state level, the evolution that's taking place in this country will get us to a place where we are going to be recognizing everybody fairly and I'm very proud of that fact that as president I've got a track record of not just talking the talk on this, but walking the walk: ending Don't Ask, Don't Tell, making sure that federal employees are treated equally when it comes to their partners and I'm going to keep pushing as hard as I can.
Watch video of the interview AFTER THE JUMP.