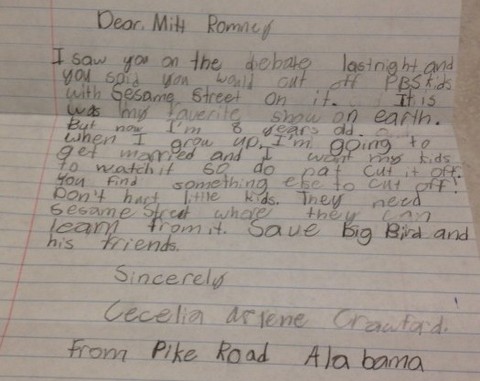 This letter, purportedly written by 8-year old Alabaman Cecilia Crawford, may be the most adorable reaction to Republican presidential candidate Mitt Romney's  vow to cut federal subsidies for PBS, a conservative move that would endanger Big Bird, his pals on Sesame Street and the rest of the public broadcasting gang.
Crawford writes, "When I grow up, I'm going to get married and I want my kids to watch [Sesame Street] so do not cut it off. You find something else to cut off."
"They need Sesame Street where they can learn from it," says Crawford, clearly worried about the stability of public education here in the States. "Save Big Bird and his friends."
I've included a larger pop-out version of Crawford's letter AFTER THE JUMP.