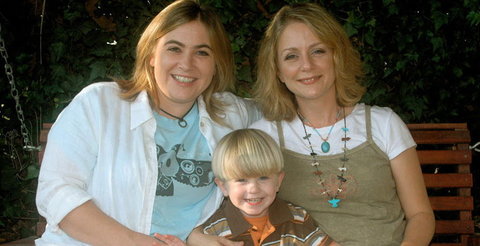 The Alabama Court of Appeals offered its thoughts on a lesbian couple's fight to extend adoption rights to both women, and it's thoughts are pretty traditional.
Even though Cari Searcy and Kim McKeand have been together for 14 years and were married during the brief time California allowed same-sex nuptials, Alabama does not recognize gay marriage; Searcy therefore is "not the spouse of the child's mother," the 5-judge court's unanimous decision said, and cannot adopt their 6-year old son.
Of course, I was disappointed, but I guess we were kind of expecting it," Searcy said after the ruling yesterday. Openly gay state Rep. Patricia Todd offered more pointed, politicized thoughts, "If we truly care about the welfare of children, it's most important that they be in a loving family. It restricts the ability to raise the child if only one parent can have custody."
Republican lawmaker Gerald Allen, a state senator, of course celebrated the news, saying the ruling "solidifies the fact the institution of marriage includes a man and a woman raising the children."
Gay or straight couples that cannot reproduce or choose not to have children, it appears, need not apply.