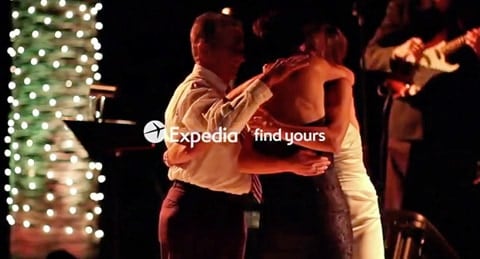 Check out this amazing new spot from travel company Expedia, which as you may recall recently publicly backed marriage equality in Washington.
Their new campaign is called "Find Your Understanding" and includes this stunning and emotional spot documenting a father's journey both literally, and figuratively, to accepting his lesbian daughter as he travels to her wedding. The campaign documents real travelers whose journeys contain personal revelations.
Watch, AFTER THE JUMP…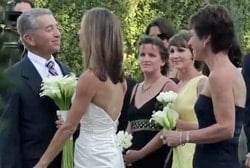 Writes Expedia:
In this case, the journey was undertaken by Artie Goldstein, a retired business owner and father to Jill Sloane Goldstein. Nikki Weiss, Jill's girlfriend, "startled" Nikki's father one afternoon when she asked for permission to marry his daughter. Artie had a dream for his daughter that included a traditional marriage and grandkids. The central premise of his story is the realization that he had to choose whether or not he would maintain a relationship with his daughter.
The video incorporates real footage as Artie ponders that question and travels to Jill and Nikki's wedding in Malibu.
Nikki is an agent and producer in the feature film and advertising commercial industry. Jill is a seasoned advertising executive turned writer/producer. She also pens a fitness column in Curve Magazine. Together, they have written and co-produced two television pilots and a documentary feature. Artie lives with his wife Judy, his high school sweetheart, in Georgia, where he is a retired business owner.
Nikki and Jill had first met as young girls at overnight camp. Twenty-five years later, the two reunited on the camp's website, and rekindled the connection they knew as childhood friends. That friendship blossomed into attraction and became the foundation of a loving adult partnership.