Following passage of a law banning harmful "ex-gay" therapy for minors in California, more states are looking to enact similar laws, the AP reports: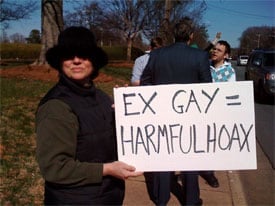 Two New Jersey lawmakers already are drafting similar legislation, while groups that helped get the California law passed are sharing research, witnesses and talking points with counterparts in other gay-friendly states, said Geoff Kors, senior legislative and policy strategist for the San Francisco-based National Center for Lesbian Rights.
"There are lots of folks today who are looking at this, now that the governor has signed it," Kors said. "We'll be reaching out to all the state (gay rights) groups, especially in states that have had success passing LGBT rights legislation."
As I noted yesterday, conservative lawyers The Liberty Counsel, on behalf of "ex-gay" group NARTH are challenging the law in court.
The National Center for Lesbian Rights (NCLR) Executive Director Kate Kendell, Esq released this statement today:
"This lawsuit is a desperate, last ditch effort to defend the indefensible. The plain fact is that every mainstream medical and mental health association in the country has warned that these practices are ineffective and dangerous. The state has a clear duty to protect minors from harm, and that is exactly what this law does. NCLR is committed to doing all we can to defend this law while, at the same time, we work to pass similar laws in other states. We will not rest until this "quackery," as Governor Brown has called this practice, is illegal throughout our nation."
You may have missed…
CNN's Brooke Baldwin Grills 'Ex-Gay' Quack Over California's Ban on Reparative Therapy for Minors: VIDEO [tlrd]