TRY TOWLEROAD (IPAD/IPHONE)
This is not hard.
Just type "www.towleroad.com" or "tlrd.com" in your iOS device's browser. After you've been redirected to the new edition you can just click around. Don't worry – you won't break anything!
When you arrive at the site, this is what you'll see. iPad on the left. iPhone on the right:
But here are some step by step explanations of navigation, features, as well as how to save a one-touch access App icon to your iPhone or iPad's home screen so you don't have to deal with browsers or urls ever again.
Have a look and send us some feedback through the contact form.
Note: There are still a few bugs. We will be including comments and access to comments shortly. You'll notice. Right now the comments icon is already in place at the bottom but is not clickable. 
Step-by-Step:Try Towleroad on your iOS device
1. Open the browser on your iPhone or iPad.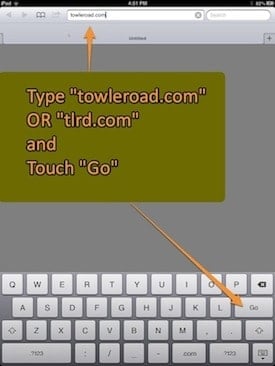 2. Type "www.towleroad.com" OR "tlrd.com" in the URL field, and…
3. Touch "Go".
If you're on one of the optimized devices — iPad, iPhone, Nexus-7, or Kindle, you'll be redirected to touch.www.towleroad.com/tlrd, where you'll find one of the new optimized versions for iPad or iPhone shown above.
Go from there and check out our other post covering basic features.