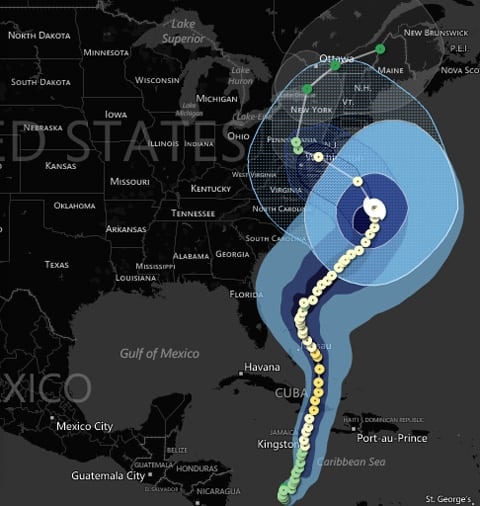 Hurricane Sandy has picked up strength overnight as it prepares to turn northwest and strike the east coast:
At 5 a.m., the huge storm was producing sustained winds of 85 miles an hour after turning due north, according to the National Hurricane Center. It was expected to veer again to the northwest later Monday morning and take dead aim at the coastline of New Jersey.
The swing to the northwest can be observed in a satellite loop of the monster storm.
High wind warnings related to Sandy include ME, NH, VT, MA, RI, CT, NY, NJ, PA, DE, MD, VA, WV, OH, MI, NC, GA, and Washington D.C. According to the NWS, tropical storm force gusts of 41 mph have now reached Boston.
As the storm bore down on some of the nation's most densely populated areas, city and state officials went into emergency mode. The New York City subway system and all of the region's commuter trains and buses were shut down. The major stock exchanges called off all trading for Monday and Broadway theaters canceled their shows on Sunday evening and Monday.
Mayor Michael R. Bloomberg ordered the evacuation of more than 370,000 people in low-lying communities from Coney Island in Brooklyn to Battery Park City in Manhattan and gave 1.1 million schoolchildren a day off on Monday. The city opened evacuation shelters at 76 public schools.
Here's a LIVE shot of NYC.
New York's normally packed transit stations are abandoned. Check out more photos on the MTA's Flickr feed.
Air Force reconnaisance aircraft reported a 28-mile wide circular eye earlier this morning.
An updated forecast track is here.
Off the coast of North Carolina, the crew of a 180-foot, three mast tall ship, HMS Bounty, has abandoned ship:
The 17 person crew donned cold water survival suits and lifejackets before launching in two 25-man lifeboats with canopies. The Coast Guard continues to monitor the situation and assess the weather conditions to determine the soonest Coast Guard aircraft or surface assets can be on scene to conduct effective rescue operations….An air crew from Coast Guard Air Station Elizabeth City launched aboard an HC-130 Hercules aircraft, which later arrived on scene and reestablished communications with the Bounty's crew. The vessel was reportedly taking on water and was without propulsion.  On scene weather is reported to be 40 mph winds and 18-foot seas."
5:30 am, Battery Park City: