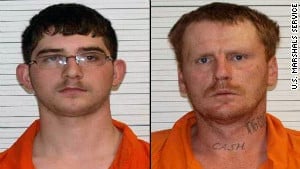 Anthony Ray Jenkins and David Jason Jenkins managed to escape a federal hate crime guilty verdict in their Kentucky trial yesterday. The Jenkins boys were brought up on kidnapping and hate crime charges after they attacked 29-year old Kevin Pennington in 2009.
Pennington and prosecutors said Pennington's sexual orientation was the target; defense said the incident stemmed from a family feud and accused prosecutors of kowtowing to President Obama's "special interests" looking to win the federal government's first anti-gay hate crime case.
"If the government and President Obama want to bow to the special-interest groups, that's their business, but they picked the wrong case," said the criminal defense attorney, Willis Coffey. Coffey previously challenged the hate crime charge for "arbitrarily" creating "protected classes".
While they escaped hate crimes charges, the Jenkins cousins were found guilty of kidnapping and conspiracy to kidnap. They will be sentenced in February.