Justin's Gift, the LGBTQ group in Anoka, Minnesota named for gay deceased bullying victim Justin Aaberg (below), has been told by organizers that its group of 30 kids can't march in the Halloween parade because there isn't enough room, Minnesota Public Radio reports: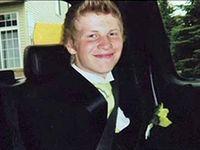 Justin's Gift, a nonprofit group created to support gay youth after several suicides in the Anoka-Hennepin School District, received a letter dated Sept. 25 denying their request to walk in the Oct. 27 parade. The letter is signed by the parade chair, who included only her first name, Liz.
"At this time we are unable to accept your application for the parade," the letter said. "We have reached our maximum for walking units."
The parade's website lists a phone number for the Anoka Area Chamber of Commerce as its contact number. A receptionist at the Chamber of Commerce said she is taking messages for parade organizers. The group did not respond to a message left Tuesday by MPR News. Parade organizers also did not respond to emails seeking comment.
Justin's Gift posted this message on its website:
Dear Justin's Gift Youth,
We regret to inform you that our application to participate in the Anoka Halloween Parade, as our favorite fairy tale characters, was denied and we are not being allowed to participate.  They stated that there were too many people already walking in the parade.  We know you were looking forward to this opportunity, but we encourage you to attend our Halloween Dance which will be a great night!
Anoka, Minnesota has a poor reputation for handling the needs of LGBT youth. As you may recall, the Anoka-Hennepin School District last March settled a federal suit filed in 2011 by civil rights groups and six student plaintiffs over a sexual neutrality policy blamed for bullying linked to the suicides of seven students over a two year period.
Anoka bills itself as the 'Halloween Capital of the World'.
The Chamber of Commerce's phone number can be found here. Other contact info here.